San Antonio Sprinkler Installation
Once you've discussed your irrigation and sprinkler system needs with a qualified professional at Texas Sprinkler Works and determined what works best for you, it's time to schedule the installation of the system at your home or business.
Your new sprinkler or irrigation system can be installed at your convenience by the qualified and professional team of installers at Texas Sprinkler Works of San Antonio. We'll work with you every step of the way to ensure the kind of great job that you can highly recommend to your personal friends and business acquaintances.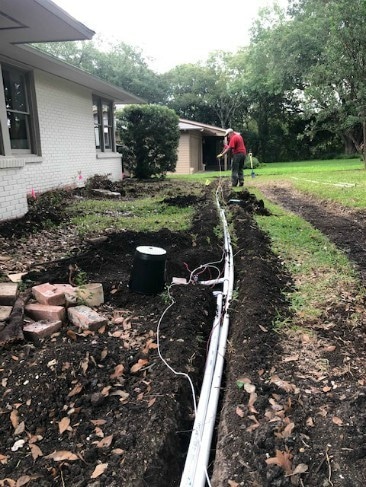 Contact us today to schedule a free estimate at your home or business.
So if you want a San Antonio sprinkler system and you're looking for the best in the city, look no further than Texas Sprinkler Works of San Antonio. 
How long will it take for my new sprinkler system to be installed?
This depends on the size of your property 
and how much of it will be covered by the new irrigation system.
If you have an acre or less and the installation is occurring at your personal residence, it can usually be done in a couple of days. But if we're talking about a larger portion of land, like golf courses or business campuses, your irrigation system is obviously going to take a bit longer.
Time is covered in our free estimates, as well as irrigation and sprinkler systems, parts, customer service obligations and much more. So contact us today and let's talk!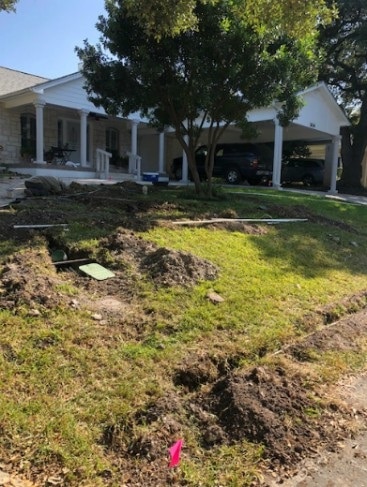 Will you have to tear up my lawn during installation of my irrigation system?
Sprinkler installation process
Not any more than is absolutely necessary!
That being said, there will obviously be some digging involved as we install your sprinklers and connect them to the main water line on your property.
But we promise that the installation of your irrigation system will be done with the utmost care. By the time the system is installed and our workers have left the property, we'll have everything cleaned up to your satisfaction.
Our irrigation system and installation services are at your disposal and we won't leave until you're satisfied with our work and with the state of your lawn.
Do you also handle repairs of irrigation systems?
Yes, we certainly do!
We stand behind our sprinklers and irrigation systems and will work to make things right should something not meet your expectations. But any once new sprinkler system San Antonio is going to need repair and upkeep from time to time, and our San Antonio sprinkler repair team is the best in the city.
From installation to service to repair and yearly maintenance, we'll put our irrigation services at Texas Sprinkler Works of San Antonio up against anybody in the business.
If your sprinkler heads need an upgrade, your irrigation system needs some minor repairs or you just want to upgrade your sprinklers to the most recent model, call us for the best sprinkler repair in San Antonio, TX.
We also offer free estimates on our irrigation and sprinkler repair San Antonio services, so contact us today to discuss your needs with a member of our installation and repair team.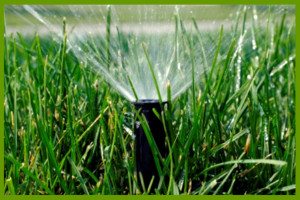 What types of products do you use?
The best sprinkler brands!
We don't cut any corners in the types of products that we use, including Rain Bird and other popular industry brands. And we stand behind our products in all instances.
Rain Bird and other reputable brands offer some of the best irrigation products on the market today, and we use only the best at Texas Sprinkler Works of San Antonio.
Call Today For Your Free Estimate!
Fast & Affordable Sprinkler Repairs
Locally-Owned. Guaranteed Work. Best Pricing